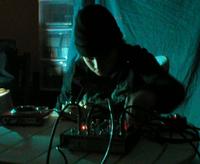 Artist bio:
CJ Borosque is a sound artist, turntablist and noisician, living in the San Francisco Bay Area. She has performed at the NorCal Noise fest, The Big Sur Experimental Music Festival (2003/04), The Oakland Noise festival and Spring Reverb. She is the leader of the free-noise trio Acideous Dream She also plays in Rent Romus's free-jazz trio The Lords of Outland
Artist contact info:
[Forthcoming]
Tracks by CJ Borosque
Download
"androidflock-01"
by
CJ Borosque
Download
"They"
by
CJ Borosque
Releases by CJ Borosque on Harshnoise
They
Released 2006-04-26
more info »